Do you use alternative transportation to get to work at least twice a week? If you do and you need to leave work early due to an emergency, RideShare pays for a taxi or rental car.
Because leaving your car at home –even just a couple days a week– is so beneficial, RideShare will make it even easier by paying for your transportation if the unexpected happens while you're at work. It's called the Guaranteed Ride Home Program.
Once you register for Guaranteed Ride Home (GRH), you will receive a Member ID card, voucher, and survey form. Keep them at work. If an emergency arises and you need to leave, notify your immediate supervisor and contact one of the service providers listed in the FAQ section of this page Tell them you are a RideShare Guaranteed Ride Home member and need transportation.
When the taxi (or rental car) arrives, present your ID card, picture ID, and voucher. The voucher is your "payment"; the provider sends it to us and we pay. To replace the voucher you've used, fill out and return the survey form to us within 10 days of your ride home. We will send you another voucher through the mail. *Guaranteed Ride Home vouchers do not cover gratuity.
You get up to five (5) free trips per calendar year. Please note that the Guaranteed Ride Home is not for personal errands or non-emergencies. Usage is monitored, and GRH members will be billed for non-emergency transportation. Misuse of the program is grounds for being dropped from membership.
You or an immediate family member has a sudden illness or injury.
You are asked by your supervisor to work unscheduled overtime that will result in you missing your ride or bus.
Your carpool driver has to leave early unexpectedly.
There's an emergency at home.
*All GRH trips must be unscheduled and unexpected to be eligible
You are employed full-time or permanent part-time, and
You are registered with RideShare and
You get to work one of the following ways at least twice a week:

Carpool (including riding with your spouse)
Vanpool
Public transit
Walk
Bike
Frequently Asked Questions (FAQ)
Eligible GRH participants are welcome to use any transportation provider. However, Yellow Taxi and Enterprise Car Rental have agreed to bill RideShare directly for services rendered. Others such as Uber or Lyft will require payment from you in advance. If you select another provider and have to pay for your ride, you will be reimbursed only after sending the receipt from the ride and your completed voucher and survey to within 10 days to RideShare.
If you need to travel less than 20 miles, you do not have a valid Virginia driver's license, or the rental car agency is not open, a taxi is the primary option. Remember, you may use any service you like but Yellow Cab has agreed to bill RideShare directly.
Yellow Cab Transportation Service: (434) 295-4131
If you need to travel more than 20 miles and have a valid VA driver's license, your primary choice should be a rental car. RideShare will only pay for a compact car, which must be returned within 24 hours. Enterprise Car Rental has agreed to bill RideShare directly. You may choose any service you prefer, but if you use an agency other than Enterprise, be prepared to pay for the car when you pick it up. Reimbursement will follow receipt of your completed invoice. Contact the office closest to your work site.
Enterprise Car Rental Offices:
Charlottesville: Pantops Mountain 434-979-5566
Charlottesville: Seminole Square 434-974-7488
Culpeper: 540-829-7800
Madison Heights: 434-528-3780
Richmond (Glen Allen): 804-346-9500
Richmond (Broad Street)* 804-217-6323
Waynesboro: 540-943-9714
* There are several other Richmond branches. For the one closest to you, visit
Enterprise.com
Note
Most rental car agencies are only open from 8:00 am to 6:00 pm, Monday-Friday, so even if you need to travel more than 20 miles, you may need to travel by taxi after hours.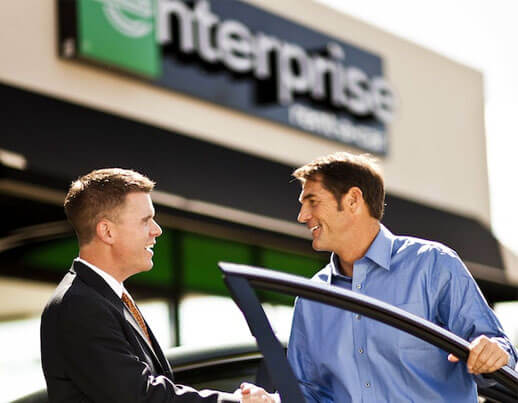 Our program covers anyone who lives or works in the following areas: cities of Buena Vista, Charlottesville, Harrisonburg, Lexington, Staunton and Waynesboro; and the counties of Albemarle, Augusta, Bath, Fluvanna, Greene, Highland, Louisa, Nelson, Rockbridge and Rockingham. Our database consists of hundreds of registered commuters with new commuters registering every day. It is possible that other commuters seeking to share a ride may contact you. Please note that RideShare does not sell, share, or trade the information you provide.